Les Sims 4 – Mise à jour du 9 juillet 2015
Le 9 juillet 2015, une nouvelle mise à jour a été mise en place sur les Sims 4. Voici les modifications majeures, ainsi que les bugs corrigés :
Arrivée des portes verrouillées.
Arrivée des demi-murs.
Implantions de nouveaux objets comme la porte de la reine et la porte du roi qui permettront seulement aux Sims hommes ou femmes de rentrer dans une pièce, une porte en verre, mais aussi une nouvelle clôture, 6 nouveaux stickers muraux, une tenue en serviette ou encore des

 pantoufles pour enfants.

Une réorganisation de la Galerie.

La mise en place d'un bouton lorsque vous êtes sur la carte de votre monde pour avoir les informations sur le monde et sur les types de terrain présents.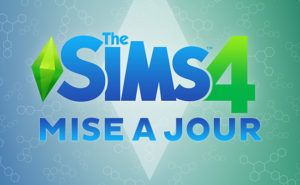 The New
Half Walls! Not Full Walls!
I'm not sure why we call them half walls, as that would imply we are just giving you one size… a half wall. But we've got five sizes for you! So they really are more like Not Full-Wall Walls.
To begin building with your very own Not Full-Wall Walls:
Open up Build Mode, and click on the Build sort.
In the picture, select the deck (near fences and doors) called Walls and Empty Rooms
From here, you can find Half Walls and Half Wall Trims in their similarly named sorts

Unfortunately I didn't get the chance to change their names in game… so sadly they are still called half walls. But you and I know better.
You can replace existing walls or draw your own half walls, similar to fences. Once you have placed a half wall, you can texture the wall using Wall Patterns, or modify the trim piece from the Half Wall Trims catalog.
Door Locking
Sims can now lock their doors!
Click on a door, choose Lock Door For… and select who you want to keep out.
Once you have chosen who doesn't get to use the door, you can modify the access list by choosing Allow Access For… and select who gets to come in.
Or you can unlock the door.
Some new things!
The King's and Queen's Door (allowing only just the men or women to pass through it)
The Seeing Glass door
The Smooth Keeper fence
The Subtle Saucer ceiling light
6 new Wall Decals (4 arrows and a male/female decal)
A male and female Towel full body outfit for all ages
A pair of slippers for the kids
Gallery Updates
Updated the organization for and added all new sorts for your Households, Lots, and Rooms

Size, Room Type, Lot Type, Price, # of Sims

Funds and Lot Size for your current lot is now visible when placing a lot from within Live Mode

This is incredible! To not have to guess what lot size I was playing on, or how many Simoleons I had left to build with… so nice!

A large assortment of new lots can be found in the My Library tab, from library to park, and residential to lounge (over 25 lots added).
A new option to place lots from Manage Worlds without entering Build Mode.
World and Venue Interface Oooverhaul
It's been proven through statistical manipulation that if you use really big sounding words to describe something, it sounds awesome! That said, this is pretty awesome!
The Lot Info Panel layout has been updated
Residential lot bedroom / bathroom fields are now text entry fields rather than drop downs
Lot Value and Dimensions are easier to find
And there is a new button, View Venue Type in Gallery, which takes you to lots of that type in My Library for quick placement.

This option also exists within the venue type drop down
The World Maps have a new button next to them to View World Info. From within
Add / edit the world description
Click View Lot Types to see which lots already exist with the current world, and again easily find within the Gallery if you wish to place a specific lot type.
Issues Fixed
General (Crash / Performance / Critical)
We have continued to improve performance through various optimizations.
The cas.fulleditmode cheat will no longer allow a pregnant Sims to switch age or gender.
General (Tuning / Interface)
The unbreakable PrioPerfection Motion Sensor Game Mat is now unbreakable.

The unsinkable Molly Brown is not.

Child only households are no longer allowed to move directly into a lot without an existing household from the gallery.
The Gallery description fields not only allow you to type 500 characters, but now they also let you read 500 characters!
Joining a play date with a Sim that is playful will now properly satisfy the hidden playful goal for the event.

Sometimes goals that are "obvious" to an event are hidden in order to streamline the way an event is presented.

Roof trims are now free!!!

Well, they've always been free, but now they also SAY they are free.

Items flagged as "New" will no longer be "New" once you know them.

Or I could just say "Clicking on a new flagged item will clear the flag."

Phone options in the phone menu will no longer crawl their way off screen when switching tabs.
Fixed an issue in Create a Sim that could cause facial features to incorrectly modify if a Sim was first randomized from Gallery and then switched ages.
Burned stereos will no longer continue to visually act as if they are still functional.
We fixed an issue that would prevent you from being able to rotate an object after using the "M" key to swap which slot the object was resting in.

Did you know about the "M" key?
I didn't.
And I'm all about keyboard shortcuts (WASD for life!).

The riverside curb found in the neighborhood containing Fern Park, Beech Byway, Oak Alcove, and Midtown Meadows will no longer allow your Sims to contemplate life, existence, everything… fish… by being able to see through to the infinite void.
Fixed an issue that could cause photos and paintings to turn black if they were first placed into the Household Inventory, and then placed on the lot.
2560 x 1440 resolution will now be remembered when switching between fullscreen and windowed modes.

Also, if you are playing at 2560 x 1440, I'm jealous. So…yep, there it is.

The thumbnail loading animation in The Gallery will now actually animate, rather than appear as if you have frozen… once again freeing you to contemplate life, existence, forty-two…
MAC
Pressing "B" will now properly select the Wall Tool, and not the basement tool.

Because Wall starts with B! It's silent.
And invisible.
Outdoor Retreat
Several flowers and shrubs recently became incorrectly hidden behind a cheat. We have fixed this issue and returned the foliage to their proper place in the catalog.
Players can no longer choose to move their household into Granite Falls… since that corrupted their save file…

… and the other Sims 4 save files on their system
But that's it!
Except there was that one designer… supposedly he went a little, you know, as a result of working on the issue. But that was unconfirmed. Completely unrelated. I mean, I'm not one to talk… but, well, his family has a "history" you know. He lived with his mother at this motel on the interstate. And well I don't want to bore you with the details, but there was talk about how his mother had passed under mysterious circumstances and you know, he was finding it difficult to accept her passing. Spending his days listlessly working his motel desk, cleaning the showers… it is true that 'we all go a little mad sometimes,' his words not mine of course, but I'm not sure he's put the past behind him. And well, I think it's affecting his work. Maybe I'll head over to his place, and talk to him about it. Should be fine… it's not prying you know, I'm just concerned.

Choosing to "Join Vacation" will no longer use a llama icon in the action queue.

The llama does have a name, it's Dolly.

You will no longer receive the Unbearable buff if you run into the bear when the bear is not in character.
Sims will no longer become stuck with the dirty clothes look if they were grungy while on vacation and took a shower/bath to clean up.

They will however maintain the look if they are LARPing 90s Northwest bands.

Using the Fireweed Spray on a bed will now have visual fx when using it.
The forest ranger now has an icon of their very own when asked about their career.
Get to Work
We fixed an issue that prevented the hiring of new employees if a former employee had died while on the job. And while we are concerned for the safety of all employees, it is equally, if not more important to ensure that you can keep your store running. What you do with your employees, at your store is not for us to worry about, we just want to make sure you can keep hiring.
The Memory Erase interaction now increases mischief skill. We just forgot.
Perfect Patio
Now when you search for Hot Tub, you will find… hot tubs.
Also, hot tubs now provide fun for your Sims.

Découvrez nos derniers aperçus :