GW2 – Recherche de groupe et map PvP
Des informations nous provenant tout droit du Reddit Gw2, nous apportent quelques notes sur le Datamining du dernier patch.
Découvrons tout ceci en détails.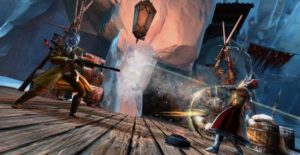 ► Two gemstore descriptions have been updated :
Each festive dragon coffer commonly contains candy, tonics, or fireworks. It may also rarely contain a Mini Holo Undead Dragon Knight, recipes, or a Dragon's Jade Weapon Skin Ticket.
Chop-It-All ! Unlimited Logging.Limited Sale !
► Some information on Skyhammer:
109814_0130 -Maintain control of the Skyhammer cannon to call down lightning and vaporize your foes.
109814_0145 Skyhammer Cannon Overcharged
109814_0158 Skyhammer calibrated for Red Team.
109814_0161 Halt all movement. Experiment incoming.
109814_0163 Test subjects may experience dizziness, confusion, and death.
► Looks like we will be able to gift items:
109710_0634 You have received a gift!
► But best of all, they are implementing a looking for group tool:
109814_0598 Click here to list your party for others to be able to search for.
109814_0599 You must select a filter from the left before you can advertise your group.
109814_0600 Your group is current listed for other players to find.
109828_0719 Filter descriptions
109828_0720 Refresh
109828_0721 Advertise Your Group
109828_0722 Group description
109828_0945 Join
109828_0959 Full
109828_0960 This group is currently full and cannot be joined.
109828_0961 Available Spot
109814_0106 Find others to help you in this month's Living World content.
109831_0726 Ascalonian Catacombs Story recommended level: 30 Explorable recommended level: 35
109814_0107 Caudecus's Manor Story recommended level: 40 Explorable recommended level: 45
109814_0108 Twlight Arbor Story recommended level: 50 Explorable recommended level: 55
109814_0109 Sorrow's Embrace Story recommended level: 60 Explorable recommended level: 65
109814_0110 Citadel of Flame Story recommended level: 70 Explorable recommended level: 75
109814_0111 Honor of the Waves Story recommended level: 76 Explorable recommended level: 80
109814_0112 Crucible of Eternity Story recommended level: 78 Explorable recommended level: 80
109814_0113 The Ruined City of Arah Story recommended level: 80 Explorable recommended level: 80
109814_0114 Entry-level Fractals with basic rewards.
109814_0115 Intermediate Fractals with better rewards and a chance of obtaining Ascended Rings.
109814_0116 Advanced Fractal levels with a chance of obtaining Infused Ascended Rings.
109814_0117 Rated PvP matches, for competitive play and leaderboard rating.
109814_0118 Unrated
109814_0119 Unrated PvP matches, for more casual play.
109814_0120 Eternal Battlegrounds Find a group to take supply camps, towers, or keeps in the Eternal Battlegrounds.
109814_0121 Red Borderlands
109814_0122 Red Borderlands Find a group to take supply camps, towers, or keeps in the Red Borderlands.
109814_0123 Blue Borderlands
109814_0124 Blue Borderlands Find a group to take supply camps, towers, or keeps in the Blue Borderlands.
109814_0125 Green Borderlands
109814_0126 Green Borderlands Find a group to take supply camps, towers, or keeps in the Green Borderlands.
109814_0127 Find players to help you through your personal story.
Pour résumer tout ça :
► La Compagnie Commerciale du Lion Noir pourrait proposer des coffres festifs du dragon. À l'intérieur, vous pourriez looter des bonbons, toniques, feux de camps et même un mini-familier chevalier mort-vivant, des composants ou un ticket d'arme du dragon de jade.
► La nouvelle map PvP : SkyHammer, que l'on pourrait nommer CielMarteau, MarteauCiel ou encore Le Marteau du Ciel, consisterait en un contrôle de canons de la part des deux équipes adverses. Il y aurait ensuite un moment en jeu où le canon expérimental délivrerait une énorme charge et les joueurs dans une zone serait étourdit, confus et même tués. Une sorte d'Hyperportes Antiques de SW:ToR ?
► Nous recevront également un cadeau lors d'un évènement, fin d'évènement ? Ceci pourrait être un masque de dragon, une tenue de plage ou bien une tenue de ville ?
► La recherche de groupe sera bientôt de la partie ! Elle regroupera tous les donjons selon les différents niveaux et deux modes de difficultés. Les fractales seront ajoutées selon trois niveaux : débutants, intermédiaire avec de meilleures récompenses et des chances de looter des anneaux élevés, difficile avec encore de meilleures récompenses et anneaux élevés. Mais ce n'est pas tout ! Il nous sera également possible de rejoindre les matchs PvP depuis cet outil ou bien directement pour le McM des batailles éternelles (Uniquement) ! Le fait de rejoindre un groupe d'Histoire Personnelle serait aussi ajoutée.

Découvrez nos derniers aperçus :